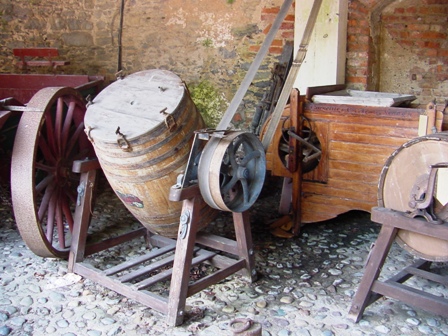 2011 is the Year of Craft in Ireland. In order to help you find the events, studios, galleries, and craft shops in the area(s) you will be in 2011, the  Discover Ireland (www.discoverireland.ie) has lists and links to guide you.
You might also want to check out the Crafts Council in Ireland webpage to get the whole scoop on Year of Craft 2011 (www.ccoi.ie or www.craftinireland.com).
<The following information is from the Discover Ireland website.>
Irish Crafts
Ireland has a huge wealth of artistic talent spread right around the country, from mountainside to sea, you will finda wealth of craft makers in studios tucked away in the towns and villages that dot the Irish countryside. Irish Craft is recognised worldwide for its innovative use of traditional techniques, utilising local materials to create objects of outstanding beauty.
It just happens that 2011 is the official Year of Craft! Throughout the coming year visitors can participate in craft events nationwide by attending demonstrations,  signing up for workshops, meeting the makers  and picking up beautiful pieces of Irish made craft.  www.craftinireland.com
To experience the best of Irish craftsmanship, we encourage you to visit the studios of makers listed on the crafts trails below. You can choose to visit a trail in its entirety or make your own selection for a unique experience. On a craft trail, you get to see the craftwork being made and also meet the makers and hear their creative stories.
There are also a wide variety of retailers who present a huge selection of hand-crafted Irish crafts located throughout Ireland. A selection of retailers are shown below but there are so many more that await your discovery!
To help you experience the oft forgotten magic of seeing a skilled hand create an object from simple materials, we are delighted to present a selection of short films which introduce some of Ireland's talented craft makers.
Studio Craft Trails to Visit:
MADE in Kilkenny:
A craft trail of 26 makers which winds through the medieval city's streets and into the rolling countryside of Kilkenny.
www.madeinkilkenny.ie
West Cork Crafts Trail:
West Cork Craft & Design Guild – 21 Craftmakers working in the serenely beautiful surroundings of West Cork.
www.westcorkcraft.org
Louth Craftmark:
19 Makers creating a rich variety of craft in Louth, including Louth Craftmark Gallery in the town of Drogheda.
www.louthcraftmark.com
Leitrim Design House:
Established craft trail of 26 artisan makers in this beautiful and unspoilt area – a small county with a huge talent base. Featuring Leitrim Design House Gallery in Carrick-on-Shannon.
Crafts studios offer a wonderful opportunity to view a craftsman at work and of course purchase crafts sold by the owner or designer and sometimes by other craftspeople too.

There are fabulous crafts shops around the country which stock a wide selection of products designed and produced in Ireland. You will find inspirational pieces in these craft shops.

For the individualist and those searching for exclusive items, craft galleries are the place for you. Showing and selling mainly one-off and limited edition works, these galleries will take your breath away.

There are many specialised events across Ireland each year which showcase Irish craft. They offer a variety of crafts to suit all tastes and prices, and are a great way to find unique gifts while enjoying the buzz of the event.

Art in Action
Tags: artists, craft trail, Ireland, travel, Year of Craft