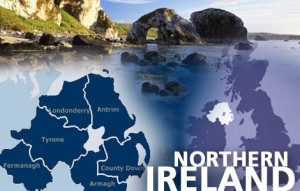 We recently returned from a 3-week trip to Ulster, most of which was spent in Northern Ireland. We spent time in every county in N.I. and visited several locations in each county. We met many people who are suffering doubly right now with the downturn in the economy and recent news accounts about renewed violence in the country. Several people (from Facebook, from our website, and from our friends, family, and others) have made comments or asked us questions about how safe it is to travel in the country and about whether or not we were concerned about our personal safety while traveling.
We had no hesitation about traveling in and around N.I. and will tell anyone willing to listen that there is no reason to avoid the country. The potential of encountering crime or violence in Northern Ireland is actually less than when you travel in the United States (or other areas of the world, for that matter). Levels of crime in bigger cities are lower in Northern Ireland than they are in most larger cities of the world.
The violence that has occurred in Northern Ireland is not now (nor has it ever been) random acts of violence/terror against any persons who happen to be in the area. Most of the acts of violence/terror have been focused by one group of people against a specific other group of people (e.g. loyalist against republican or vice versa or republican
against the British forces that occupy Northern Ireland to "keep the peace"). There is not a general danger to tourists, nor has the violence occurred in mainly tourist areas like the Antrim Coast. That being said, this is not to imply that innocent people have never been hurt. If you wander into a conflict area, you may end up getting caught in the crossfire, so it is prudent to avoid areas where conflict may occur. However, it is not like some of the randomized
violence that occurs, for instance, in the United States in the form of car jackings or muggings.
We did not fear for our safety at any time in any of the places we visited (and we visited Belfast during the initial days of the recent rioting). Prudence would suggest that travelers to Northern Ireland keep an eye on news casts while traveling in the country and avoid areas that might be experiencing conflict (or where there could potentially be conflict, as with the case during scheduled marches or demonstrations), perhaps most specifically at night. We used public transportation in several places in Northern Ireland (including Derry City and Belfast) and never had any issues at all with feeling uncomfortable or out-of-place. You just need to do your research, know where you're going and what you're doing, and pay attention (be vigilant!). We would give this advice to people if they were traveling anywhere in the world, however. It is not just applicable to Northern Ireland.
Here is what the U.S. Department of State says on its website about dissident groups in N.I.
(http://travel.state.gov/travel/cis_pa_tw/cis/cis_1145.html):
"These groups have used firearms and explosives to target police and
military personnel, attacking private vehicles and homes of security
personnel, police stations, and other justice sector buildings. While
these incidents have the potential for some spillover into Ireland,
American citizens and tourists have not been targeted."
We believe that one of the most important things people need to remember with regard to what they're seeing about violence in Northern Ireland is that the media are in the business of making money and generally do so by sensationalizing issues. (i.e. "What should we be afraid of this week?") So don't let the media coverage scare you into not visiting some of the most lovely places on the island!
Posted 6 years, 7 months ago at 8:09 am. 2 comments