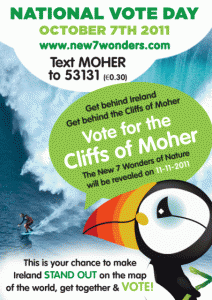 Time is winding down on the voting for the New 7 Wonders of Nature. You have until November 11, 2011, to place your votes for your favorite 7 among the 28 finalists. Among those esteemed finalists you will find the iconic Cliffs of Moher, which are perched at the edge of Ireland on the beautiful wild west coast of County Clare (http://www.cliffsofmoher.ie).
Friday, October 7, has been dubbed "National Vote Day." It's a push to encourage people to vote for the Cliffs and make Ireland more visible on the map of the world that is located on the New 7 Wonders of Nature website (http://www.new7wonders.com/).
We encourage you to get out the vote for  Ireland and the Cliffs of Moher. Make your voice heard!